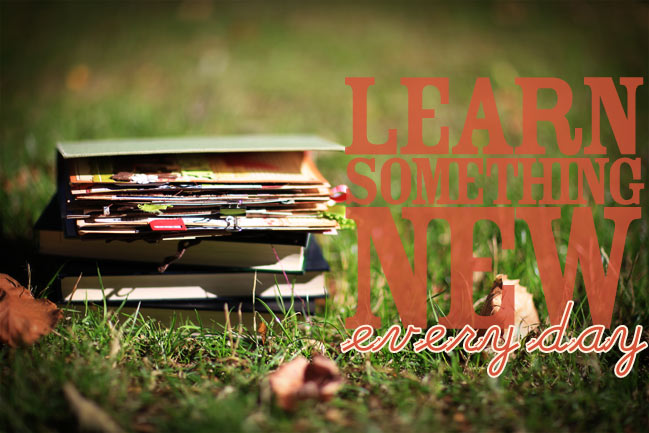 I have learned every once in a while, something happens… something little or something huge… that just smacks you in the face like a wet rag and says, "love & kindness are out there!"
That happened to me over the weekend. It was a slow dawning of understanding that didn't quite fully realize itself until this morning (Monday) when all the facts were finally in order. Sometimes my mind plays tricks on me (it has an evil side like that) and so I wasn't quite sure if I was imagining that this "thing" was done, if I had literally forgotten that I had done it myself or if there was something else at work. Turns out it was something else at work.
I'll stop being vague now. Well, as much as I possibly can.
You see… I was looking at the "Learn Something New Every Day" class over at
Shimelle.com
. Several of my online buds had been talking about it… most of them were signing up for it. I wanted to, but as with any class, I wasn't sure I'd be able to "keep up" with it. I do work two jobs and have been embarking on
a personal journey
, as well as keeping up a house with a furry zoo recently filled with health problems. I hate to overcommit myself, but at the same time, I really need and love to have the prompts and the push to do something creative… for myself… on an every day basis. I also love to learn new things and so this class seemed to be up my alley. The last class I officially "took" was Shimelle's Blogging for Scrapbookers, and well… here I am still blogging away. Wouldn't it be great if this class would prompt me to continue to learn something new every day even after the class was over?
So, I hemmed and hawed over signing up. Did I want to commit myself? Would I make myself feel guilty if I couldn't keep up? I have that problem too… an overabundance of guilt seeping from my pores. My online friends encouraged me to sign up and reminded me that once you sign up for it, you have access to that Shimelle's class forever. So I went out there last week and got myself to the registration page… put in all the information and then at the last minute decided to just shut it down and not complete the financial transaction. We're running a little tight on finances at the moment, as I said above, I have a few of my furry children who are draining me with vet bills lately, among other pop-up expenses that happened this month. So, I questioned how "late" I could sign up and found out I could sign up all the way until the end of the class. So… I will wait a payday or two and then sign up, even though then I wouldn't be on the same page/prompt as the rest of the majority of the class.
Imagine my surprise when I got a confirmation email from Shimelle two days later, thanking me for signing up. Needless to say, I was confused but resigned myself to the fact that I did not actually close out the payment page, as I thought… I must have clicked "submit". A day goes by. I look again at the confirmation email and decided to check my various payment accounts.
No payments from my accounts were made for this class.
Here's where I start wondering… did I imagine this? Is the payment hitting my account delayed? Was it a mistake? Am I thinking of the wrong class and perhaps it was a free class I signed up for? Finally I was convinced that it was a glitch on the computer (payments received) on Shimelle's end, I emailed her back asking her to change the name on my account (I already had an account with her, but she had signed me up for this class under a different email) and to please double-check her account to make sure payment had been made…
Shimelle kindly responded this morning (or late last night), confirming the account change for me and then mentioned that "
the class had been paid for by someone who wished to remain anonymous"
.
Can I say I was speechless and still remain speechless? My heart dipped, then stalled, then started beating again. I read the email a second time and tears in my eyes welled up a little (as they are now again as I write this). I can't put into words how I felt and am feeling. It was an unexpected kindness that was timelier than I can even explain. It made my Monday feel less than a typical "ugh, back to work" Monday. It made me feel "lightened" in some way. It was … unexpected. It is….amazing.
Thank you, kind and sweet anonymous Friend. If you read my blog, I hope you now know how much your gift means to me. I have humbly learned that love and kindness are still out there in the world. Since I can't thank you in person, I am shouting out my gratitude to the world in hopes of it reaching you. And since I can't pay you back, I
will
pay it
forward
.
Thank you.